Centering. Concentration. Control. Precision. Flow. Breath.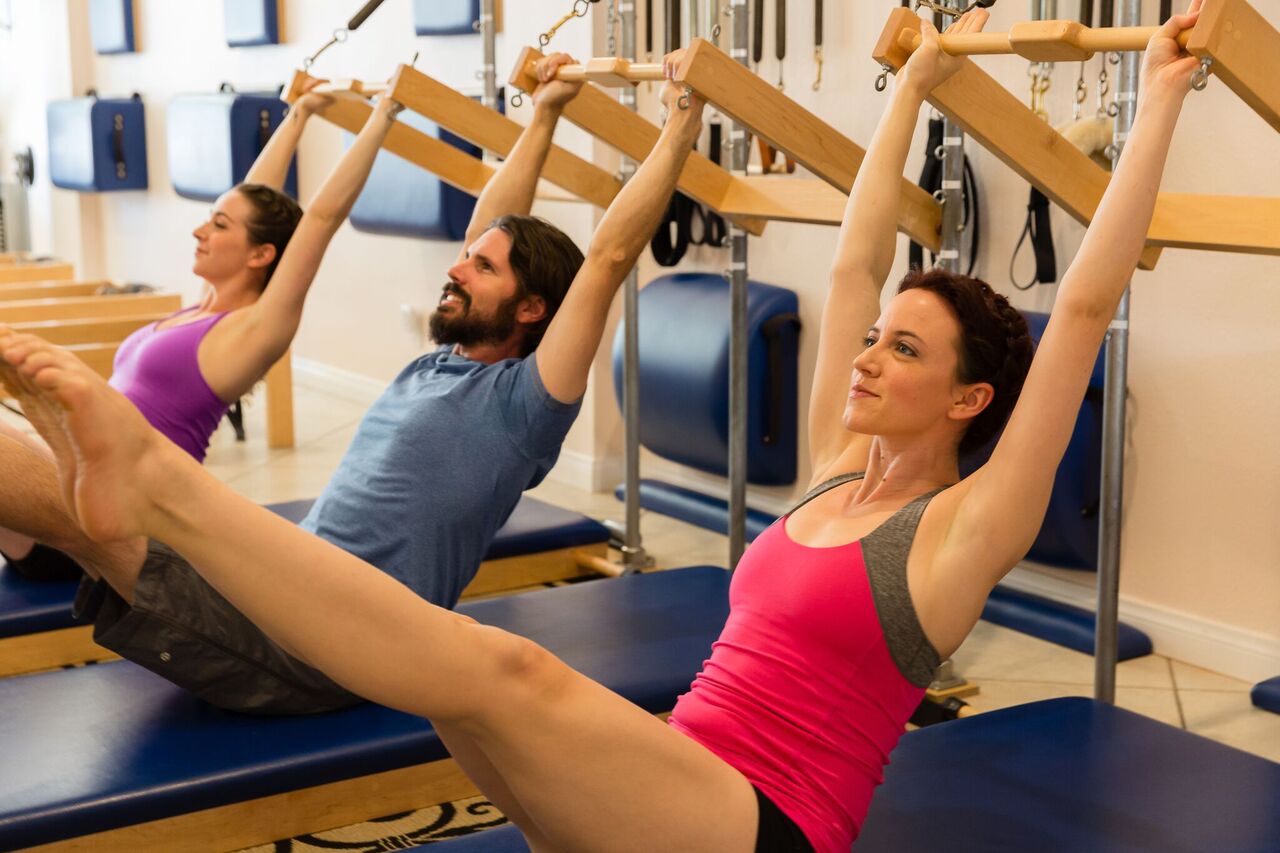 The Pilates Method of Body Conditioning focuses on six traditional principles: centering (the strengthening of core muscles – abs, lower back, hips, and buttocks – in order to coordinate movement, especially in the limbs); concentration (complete body awareness); control (movements are never sloppy or random); precision (every movement has a purpose); flow (continuous movement through proper transitions, leading to increased strength and stamina); and breath (coordinated breath and movement to oxygenate the muscles and reduce tension in the neck and shoulders).
Pilates strives to strengthen the core, lengthen the muscles, improve posture, balance, and flexibility, and create greater symmetry between the right and left side of the body. Pilates utilizes a variety of specialized equipment and apparatuses invented by Joseph Pilates: Mat Work (the heart and soul of the method), Reformer, Cadillac, Wunda Chair, High Chair, Arm Chair, Ladder Barrel, Pedi-Pull, Spine Corrector, Barrel and Guillotine Tower. With over 500 distinct exercises, Pilates provides a low-impact, total-body work-in and workout.
More than a simple style of exercise, the Classical Pilates methodology encompasses a comprehensive set of techniques and principles that can be traced back to the original teachings of founder Joseph Pilates.
Born in Germany in 1883, Joseph Pilates was plagued by Asthma and other ailments throughout his youth. But rather than concede to his disadvantages, he spent his entire life using exercise and motion as a platform to improve wellness. After years of innovation and triumph over adversity, the Classical Pilates methodology was born.
Today, Joseph Pilates' authentic Classical Pilates teachings come to life at Mind 2 Body through owner Lani Pelino and her staff. A second-generation Classical Pilates certified Instructor, Pelino was certified by Romana Kryzanowska, a direct pupil of Joseph Pilates and a renowned matriarch of the discipline in her own right.
While other studios and gyms may refer to Pilates in the general sense, only the Classical methodology is the true version of Pilates taught by Joseph Pilates. As such, we take great pride in our commitment to this practice at Mind 2 Body — it's the only version of Pilates we'll teach.
 
Benefits of the Classical Pilates Methodology
An authentic Pilates exercise experience grounded in the original principles of founder Joseph Pilates
Access to a wide range of original Pilates equipment made by Gratz and Pilates Designs by Basil.
Guidance and training from Master Trainer Lani Pelino and her team of certified Classical pilates instructors
Improved strength and flexibility; renewed mental awareness
Special attention to existing medical conditions and needs, including pregnancy, limited range of motion, acute pain, and upcoming surgery
Joseph Pilates created the Pilates Method of Body Conditioning in the early 20th century. His driving force at an early age was to improve his sickly childhood, when he suffered from asthma, rickets, and rheumatic fever. The German-born Pilates moved to England to teach self-defense to the detectives at Scotland Yard. When World War I erupted in Europe, he was interned and worked as an orderly, where his method of core training was refined. Beds rigged with springs and resistance helped even amputees and the bedridden remain fit. Pilates claims his method (which he originally called Contrology) helped protect his wards against the Influenza Epidemic of 1918.
After the war, he emigrated to New York. On the way he met Clara, and trained her in his method, virtually eradicating her arthritis and turning her into a true believer - she worked tirelessly with Joseph in refining the Pilates method. They married upon arrival in America, and opened a studio in the same building as the New York City Ballet, whose dancers were among the most devoted clients - many opened their own Pilates studios across the country, especially once retired from the stage. Ultimately, Joseph and Clara developed six main apparatus and approximately 500 different exercises. Joseph Pilates continued teaching his method until his death in 1967, at age 87. It is believed that a fire in his studio the year prior was a direct cause of his death.